What's It Mean if Your Jaw Gets Locked?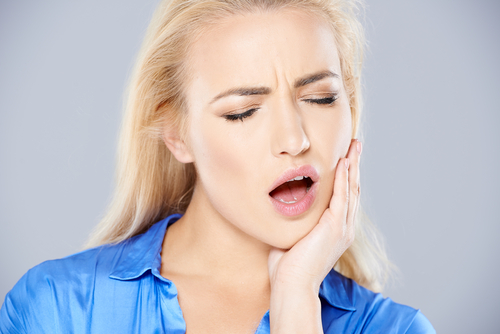 The feeling of a jaw that won't close or open and seems as if it's stuck is one of the worst feelings someone can experience. It's terrifying, it's painful, and it's random. But what exactly causes it? The team at our West Caldwell dental office is here to hopefully ease your worries and explain what may be to blame.
Let's Define it
Before we dive into the specifics of what may be causing your jaw to feel locked in position, we'd like to clear up some terminology. The term lockjaw isn't the same thing as jaw lock, although often used interchangeably. Lockjaw is a result of tetanus — a very serious, potentially fatal bacterial infection usually caused by a cut from a rusty piece of metal. Jaw lock, however, is what we're talking about here and is directly related to the temporomandibular joint, also referred to as the TMJ.
What's Happening?
Now that we know the difference between lockjaw and jaw lock, let's look into two possible explanations behind the latter.
The Bite.

The bite is the term dentists use to describe how the top teeth and bottom teeth fit together. If the bite is bad, known as malocclusion, or shifts away from its normal position, the muscles in the jaw, neck, and face can become inflamed. When this happens, the muscles tighten and can no longer function smoothly and effectively. It's this tightening that makes the jaw lock up.
The Jaw.

The anatomy of the jaw itself may the reason behind the locking sensation. This joint has a piece of cartilage that separates the jaw bone and the rest of the skull. If this cartilage becomes damaged, usually from grinding, clenching, or an injury, it can slip out of place, causing the jaw to become stuck in place.
Symptoms of a Problem
It's important to note that not all symptoms are experienced by everyone, and you should see your dentist in West Caldwell for a proper diagnosis. Some additional symptoms besides jaw lock include:
Recurring headaches

A clicking or popping noise or sensation when opening and closing the mouth

Jaw pain that increases when opening the mouth widely, like a yawn
Don't have a dentist but experiencing jaw lock? We welcome you to call our West Caldwell dental office to schedule an appointment. We'll evaluate your jaw joint and talk with you about the symptoms you're having so we're able to diagnose what's happening and recommend the best treatment for you.
Accepting patients from West Caldwell, Fairfield, Roseland.